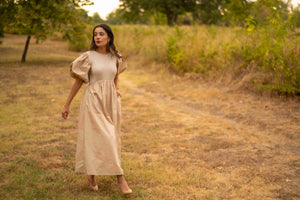 Imago Dei
As Christians, we are called to be different.
Guided by the Holy Spirit, our mission is to call to mind the woman's inherent dignity by providing beautiful, modest apparel that elegantly presents the Catholic faith. Gabrielle, who is well-acquainted with the haute couture fashion industry, has a passion for helping women discover their style and showcase their beauty.
Let our clothing remind us that we are a sacred creation of God, made in His will.
How did we get here?
I developed an interest in fashion at a very young age, and it turned into a lifelong passion. My mother, who worked in retail, taught me every brand, every style, and every trend of the fashion industry. From headbands to flats, I didn't just know fashion, it became my way of life.
My husband and I met in high school band class when we were 18. We spent all four years of college long distance. During that time, we turned to our faith and our Catholic communities to be together in spirit. Now we're happily married and living in Dallas, TX. I work as a personal stylist for the Nordstrom designer collection at the beautiful NorthPark Mall. There's nothing I love more than finding that perfect outfit for my customers!
We launched this site in early 2022 with the hopes that we'll reach the lives of many Catholic women to help them grow in faith, and be a bright light amidst a seemingly dark world. We envision a future where we can design our own pieces that will compete with some of the best in the world. We ask for you to pray, share, and stay connected with us as we build this dream.
Instagram